SPOTLIGHTS
411ís WWE Main Event Report 8.5.14
Posted by Alex Crowder on 08.05.2014

AJ Lee went one on one with Summer Rae! Stardust and Goldust went against Slater Gator and more! Check out 411ís WWE Main Event Report for all the details!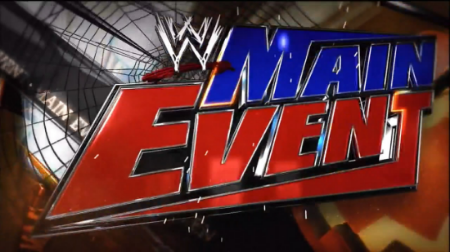 WWE MAIN EVENT 8.5.14



Alberto Del Rio enters the ring to a good ovation. He notes that we are a few weeks ago from Mexico. He addresses the crowd in Spanish (sadly, I do not know Spanish and cannot translate). The crowd seems into what Del Rio is saying. He says thank you all of you, for your support over the years. Jack Swagger's music interrupts.

Zeb Colter demands that the music is cut. Zeb didn't understand a word he said to boos. Zeb says we speak English where he comes from not Spanish, Spanglish, or Mexican. Zeb says he might as well be in Russia with the Mexican flag in the ring.

Del Rio addresses Colter and says he cannot think of a better place to have a fight. Colter compares Del Rio to Rusev. The crowd still goes along with the We the People chant.

AJ Lee returns to Main Event tonight. They'll also go over the story of Stephanie and Brie tonight.

-commercial break

Slater Gator greets us as we return. Heath Slater rolls footage of his victory over Seth Rollins. Heath celebrates as Titus looks on annoyed. Heath tries to say together we are Slater Gator, and Titus pushes him away until Goldust's music interrupts.



Slater Gator (Heath Slater and Titus O'Neil) vs. Stardust and Goldust


Heath Slater starting things off with Goldust, as Stardust chants sound off throughout the arena. Heath attacks quickly trying to leap frog Goldust but is caught with an inverted atomic drop. Stardust is tagged in leading to a hip toss and dropkick. Heath powers Stardust into the opposite corner leading to a Titus chop. Titus powers Stardust around until he's hit with a dropkick. Stardust avoids Titus and hits a springboard forearm. Stardust tries to tag but Titus pulls him all the way to the opposite corner. Stardust fights out and goes for a top rope cross body. Titus catches him with a rib-breaker and tosses him aside. He does the dog bark taunt and the crowd follows suit. Titus tags in Heath who corners him and hits shoulder thrusts. Heath quickly tags back in Titus. The crowd gets really into and Stardust is caught again by Titus. Titus tries to throw him aside, and Stardust lands on his feet. He nearly tags Goldust and Heath intercepts. Still, Stardust makes the tag and Goldust comes in hot with an inverted atomic drop. The snap scoop powerslam by Goldust gets 2 on Heath! Stardust launches himself into Titus who broke up the pin. Goldust goes for a sunset flip on Slater but Titus blindsides Goldust with a Big Boot. 1..2..3!

OFFICIAL RESULT: Slater Gator @ 5:00 via pin
MATCH THOUGHTS: That was a good tag match that deserved more time. These two had decent chemistry for five minutes. I'm not sure Slator Gator winning was the right result but the match was entertaining.

They recap the Stephanie and Brie saga from Raw last night.

AJ Lee returns after suffering whiplash from Paige next.

-commercial break



Non-Title Match: Summer Rae vs. Divas Champion AJ Lee


CM Punk chants immediately as Summer overpowers AJ. That leads to a victory roll. 1..2..kickout. AJ hits two swinging neckbreakers. 1..2..kickout. AJ seems hurt after a dropkick. Summer attacks AJ from behind while she's suffering from whiplash. Summer starts pounding her head into the turnbuckle and a corner foot choke afterwards. 1..2..kickout. Summer gets her in a modified chinlock. AJ fights to a vertical base and that leads to the Black Widow. Summer taps out.

OFFICIAL RESULT: AJ Lee @ 3:00 via submission
MATCH THOUGHTS: That was great for the 2 or 3 minutes it lasted. They really should have given that more time. I think an extended match between these two could turn out to be great. Either way decent match for what it was.

AJ is interviewed after the match. She wants to tell us a fairytale. An adorable woman became a Queen after winning the Divas title. Then an evil witch came and stole her throne from her. AJ says she has to be her own white knight. She came back and took what belonged to her and ruined Paige's fairytale.

Paige is thrilled to see AJ back on her feet. Paige can be her white knight because they belong in the ring together at Summerslam because Paige respects and loves her. They are frienenmies. She will take her championship back at Summerslam and they can be friends.

AJ likes her style but she won't like how the story ends. AJ calls Paige her crumpet and says this is her kingdom. Paige looks on pleased while AJ is pissed.

-commercial break

Next they recap the Lesnar and Cena segments from Raw.
-commercial break

Dean Ambrose will reveal his stipulation for the Summerslam match on Smackdown.



Jack Swagger with Zeb Colter vs. Alberto Del Rio


Del Rio continues to get a great ovation from this Texas crowd. Del Rio chants as both men circle leading to a lock up. Swagger gets the advantage with a headlock and hits Del Rio down with a shoulder block. A USA chant opens up and Swagger joins the crowd with it. Colter yells at the audience in Spanish. Del Rio now gets a headlock of his own sending Swagger down. Swagger retreats for a moment. Swagger holds his ribs and speaks strategy with Colter. He tells Jack to take his time back in the ring. Del Rio kicks Swagger in the mid section and corners him kicking continually. Swagger uses the referee's admonishment to regain the advantage. Del Rio hits a perfect kick on Swagger's chin. Swagger back body drops Del Rio to the outside of the ring. Jack lifts Del Rio and throws him into the barricade. The crowd seems split between the two but leaning towards Del Rio. Del Rio connects on the kick to the side of head as Swagger slowly comes back in.

-commercial break

Swagger escapes a chinlock upon our return. Swagger charges Del Rio and misses the shoulder thrust into the post. Del Rio grabs the arm and pounds it against the post. Del Rio now returns the favor throwing Swagger's injured midsection into the barricade. Del Rio goes up top hitting a side forearm. Del Rio continues the assault with kicks. Swagger clobbers Del Rio fighting back. Swagger misses another corner charge and Del Rio takes advantage. Del Rio hits the snap suplex. 1..2..kickout. Del Rio catches Swagger in a chinlock. The crowd seems to get more into Del Rio as the match goes on. Swagger again pushes Del Rio to a corner and shoulder thrusts into his midsection. Del Rio gets a cross armbreaker on the ropes and breaks at the 3 count. The crowd cheers that and Del Rio escapes the ring to rest. Del Rio goes up top, but Swagger counters this time. Colter tells Swagger to keep the momentum. Swagger hits a top rope superplex. 1..2..kickout. Swagger hits a clothesline and corner knee. Swagger whips him to another corner before hitting a Big Boot to boos. We the people taunt and Swagger Bomb connects. 1..2..kickout. Swagger and Del Rio start fighting in the corner. Del Rio hits a Tornado DDT. 1..2..kickout. Colter taunts Del Rio distracting him. Del Rio soon ignores him calling for the cross armbreaker and Swagger counters with a spinebuster like slam. 1..2..kickout. Swagger is caught in a Tilt-A-Whirl backbreaker. Del Rio connects on the superkick. 1..2..kickout. Del Rio goes for the cross armbreaker and connects. They are in the middle of the ring. Swagger uses his legs to counter getting the Patriot Lock. Del Rio escapes quickly going for another kick to the side of the head. Swagger gets another Patriot Lock and this time after a struggle he submits.

OFFICIAL RESULT: Jack Swagger @ 13:00 via pinfall
MATCH THOUGHTS: This match was as good as expected between these two. They got a lot of time unlike the other matches, which was good.



FINAL THOUGHTS: I have to admit that this edition of Main Event was a little weak compared to the past few weeks. There were too many recaps and promos not enough wrestling. All the matches were good but shortchanged in time except Del Rio and Swagger; however, that match was interrupted by a commercial. This one was an alright edition of Main Event. Nevertheless, thanks to any who read the recap!

comments powered by