SPOTLIGHTS
Tremendous Tirades: EVOLVE 32
Posted by Larry Csonka on 08.10.2014

After a fairly mediocre EVOLVE 31 event, the company steps up their game to present one of their better shows of 2014…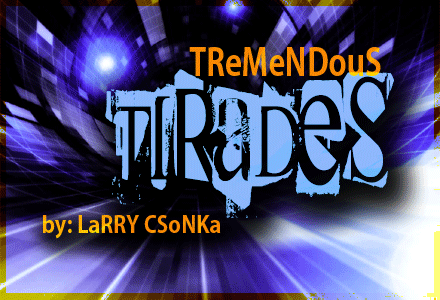 Introduction
As a reminder, this will not be another traditional recap, but instead it will be a mash up of the Rs, Instant Analysis and my usual Twitter ramblings I would do during the shows; completely uncensored and as the ideas flow unfiltered to the old keyboard. Remember, this is a review; and I am here to review the show. As always, I encourage discussion and even disagreement, just do so in a respectful manner. I will be doing the review for Raw and most PPVs and iPPVs going forward.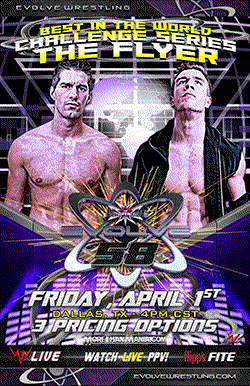 EVOLVE 32
You can order the iPPV at this link.

EVOLVE Title Match: Champion Drew Galloway defeated Tony Nese via pin : Galloway defeated Chris Hero at EVOLVE 31 to win the title, it was also his first night in the promotion. Following his big speech last night, Galloway wanted to start things off properly and defend the title in all matches going forward. So he's doing the AR Fox gimmick, which was great with Fox, but it feels like a rerun to have another "fighting champion that wants to properly represent the company" deal again. On the other hand, Galloway needs to rebuild his image, so in this case, I am ok with it. Nese targeted the leg of Galloway, which was bruised from the night before. They had a good opening match, nothing special, but good overall with Galloway retaining with the future shock DDT after Nese missed a 450.
Match/Segment Rating: ***

Style Battle Tournament Match: James Raideen defeated Drew Gulak via pin: James Raideen defeated Drew Gulak in the first Style Battle match of the night. Unlike last night where Raideen didn't get much in his match, he got the majority of this one and got a big win over Gulak. Raideen worked more like a limited heel monster here, which didn't come off well and the overall match came off as a disappointment to me, especially since I like Gulak's work so much. There was nothing wrong with it, and I wouldn't can it bad as much as I would call it bland.
Match/Segment Rating: **


Style Battle Tournament Match: Timothy Thatcher defeated Biff Busick via submission: They once again put the style battle matches back to back, and again I feel that was a mistake. I have always felt that when possible, you need to break up matches that have a chance to be very similar to each other. They could have laid out the card smarter is what I am getting at. This match was much better than the previous one; with both guys working a physical and deliberate style that did not feel like it was overly long or vanilla in any way. Some tremendous submission work and counters from both men, and while Thatcher could use some charisma and work engaging with the crowds, his work is great and I am happy that he was brought in for the weekend. Biff Busick continues to do Biff Busick things, and is awesome. The finish saw Busick work a sleeper into a throw, which led to counters on the ground and Thatcher scoring the win with the arm bar. I love the distinction in style when done right, while others want to fly or work super fast, these guys want to make things look and feel real, while making the most out of everything that they do.
Match/Segment Rating: ***¾


James Raideen, Drew Gulak, Timothy Thatcher and Biff Busick are all 1-1 in the round robin tournament.

Caleb Konley defeated Johnny Gargano via pin : For the longest time Caleb Konley was a guy I had no interest in watching, it I was usually "ugh, this fucking guy" when I saw him on cards. This year he has really turned it around, and has been having the best matches of his EVOLVE/DGUSA run. This match was a lot of fun; they brawled early, had a ton of fire and both guys seemed to set to deliver. The only issue I had was Nese causing distractions during the match. As I said for EVOLVE 31, EVOLVE had said that they would be doing no more run ins and shenanigans, but Nese (like SU Yung on the previous show) was out there and causing distractions which again, is basically the stuff they said they were getting away from. Either don't do it or just say screw it and keep doing it, but don't tell me you're not doing it and then still basically do the same thing. It appears that they are doing the "fall of Johnny Gargano" angle here, as after the match Konley ran down Gargano, noting that he used to be the golden boy of the company, but now that Gargano is washed up, the win doesn't mean nearly anything. The Gargano angle is now more obvious, I feel that the events before this didn't reflect that as much, but now you can see it because they allowed you to see it. Again, I hope that they have this well planed, because Gargano cannot go from a champion of over 800 days and one of your most reliable performers to just another guy. Unless there is more to this, like he is leaving for WWE and this is their way of writing him out, but I haven't heard anything saying that he is. Another very good match, and the show was certainly heading in the right direction.
Match/Segment Rating: ***¾

EVOLVE Championship Contenders Match: Rich Swann defeated Chris Hero via pin : Rich Swann defeated Chris Hero in a good, but not great match. Swann seemed to be moving at light speed as compared to Hero. Hero worked hard again tonight, but for whatever reason (they mentioned a back injury during EVOLVE 31), only seems capable of so much right now. While the match wasn't great, it was heavy on story, which was Hero's frustration following his title loss the previous night. Really slick finish as hero countered Swan's standing 450 into a cradle, which Swann reversed to score the win. Post match, Hero teased taking out the ref with the elbow, but opted not too and left. Again, the storytelling was good; I just hope that it doesn't mirror what they may do with Gargano, because it feels similar right now (champion loses title, gets frustrated, losing streak).
Match/Segment Rating: ***

Open The Freedom Gate Championship: Champion Ricochet defeated Matt Sydal via pin: While he has only had a few matches so far since his return, I felt that this was easily the best that Matt Sydal has looked. His Dragon Gate return was a little rough but you could see the good still, EVOLVE 31's match with Gargano as better, but he was still shaking off some rust. With Ricochet, much like segments of the DG match, things seemed easier for him. They worked together well, and delivered the high paced and exciting Jr. Heavyweight action that you would expect. They really got the crowd going towards the end, and Ricochet connected with the Benadryller, followed by a 630 (just to make sure) to finally put Sydal away. Ricochet continues his awesome year, and Sydal continues to slowly get back into in ring shape. I love having him around for all of the fresh matches. Damn fine main event here.
Match/Segment Rating: ****


Post match, Ricochet cut a promo and then he and Galloway set up their match for EVOLVE 33.


End scene.


Thanks for reading.


The Tirade


After a fairly mediocre EVOLVE 31 event, I came away pleased with the EVOLVE 32 event. The overall wrestling was better, things became a bit clearer with the booking and they are offering diverse styles of wrestling on the show. The Style Battle has been hit and miss both nights, not bad in any way, but the way they have put the matches back to back do not help their case, in my opinion. Hero and Gargano both seem to have their direction, but they need to be careful that their directions do not

EVOLVE 32 felt easier to watch, didn't drag for me, and was a good rebound from EVOLVE 31. Overall this was a very strong show (not great, but strong), one of the best of the year from EVOLVE in my opinion. It was filled with some very good wrestling, almost no bullshit, and some interesting stories going forward. I'd recommend a VOD purchase for this one.

What You Need to See: Ricochet vs. Sydal, Gargano vs. Konley and Thatcher vs. Busick.

Show Rating: 7.8

As a reminder, I will be going by the 411 scale…

0 - 0.9: Torture
1 - 1.9: Extremely Horrendous
2 - 2.9: Very Bad
3 - 3.9: Bad
4 - 4.9: Poor
5 - 5.9: Not So Good
6 - 6.9: Average
7 - 7.9: Good
8 - 8.9:Very Good
9 - 9.9: Amazing
10: Virtually Perfect

As a reminder, this is not a basic "how good was the show" number like a TV show, as I have always felt that a PPV is very different from a regular show. I have always judged PPV on how they built to a match, the match quality, crowd reactions to matches and angles, the overall booking, how the PPV leads into the future, PPV price and so on and so forth. I have added this in here for an explanation since so many have asked, and I have previously discussed it on podcasts. I understand that this may seem different, but that is how I grade. Obviously your criteria may be different.

Have you checked out the Csonka Podcasting Network? If you haven't, you should We run anywhere from 15-20 shows a month, discussing pro wrestling, the world of MMA, the NBA, general sports, popular TV series of the past, bad movies, battle rap, interviews, MMA & Wrestling conference calls and more! Around 10 different personalities take part in the various shows, which all have a different feel; so you'll likely find something you like. All of the broadcasts are free, so go ahead and give a show a try and share the link with your friends on the Twitter Machine and other social media outlets! Running since May of 2011, there are currently over 500 shows in the archive for you to listen to.



Larry Csonka is a Pisces and enjoys rolling at jiu jitsu class with Hotty McBrownbelt, cooking, long walks on the beach, Slingo and the occasional trip to Jack in the Box. He is married to a soulless ginger and has two beautiful daughters who are thankfully not soulless gingers; and is legally allowed to marry people in 35 states. He has been a wrestling fan since 1982 and has been writing for 411 since May 24th, 2004; contributing over 3,000 columns, TV reports and video reviews to the site.



Your heart is free. Have the courage to follow it…TO CSONKA'S TWITTER!

http://www.twitter.com/411wrestling
http://www.twitter.com/411moviestv
http://www.twitter.com/411music
http://www.twitter.com/411games
http://www.twitter.com/411mma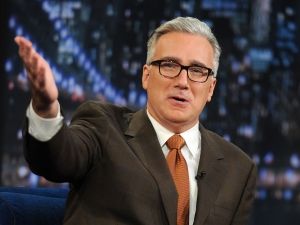 "Byyyyyyyyyyyyyyyyyyyyyye Felicia!"
comments powered by