SPOTLIGHTS
Tremendous Tirades 8.11.14: WWE Monday Night Raw
Posted by Larry Csonka on 08.11.2014

Guest starring Hulk Hogan, Claire Lynch and Harrison Ford!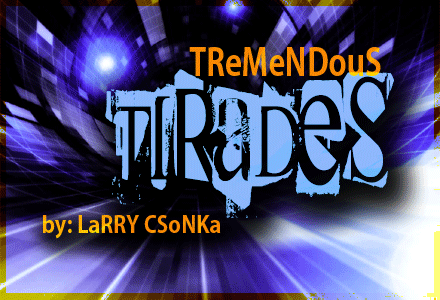 Introduction
As a reminder, this will not be another traditional recap, but instead it will be a mash up of the Rs, Instant Analysis and my usual Twitter ramblings I would do during the shows; completely uncensored and as the ideas flow unfiltered to the old keyboard. Remember, this is a review; and I am here to review the show. As always, I encourage discussion and even disagreement, just do so in a respectful manner. I will be doing the review for Raw and most PPVs and iPPVs going forward.


WWE MONDAY NIGHT RAW 8.11.14
In a throw back to an old 411 ratings system, we rank on a system of HOGAN FACES tonight. Scale is 0-5. Disclaimer: The actual value of Hogan heads is impossible to calculate.

The Beast Incarnate: Yup, opening show promo. At least it is someone different this week. Paul Heyman came out, put over Lesnar, Cena, their match and the fact that his client would be the world champion this time next week. He actually had the sack to say that, "I sell you on major events" and I could think was, "yes sir, you do". The man is awesome, I know it seems cool to try to hate on Heyman, and claim he is nothing but repetitive and claim he really isn't that great, but there is not anyone even close to Heyman in 2014. I already have the Network and the man made me want to pay for the damn show. He did a little spoken word style rap, announced that this was Lesnar's house, and that while they were going to dinner, the man of the house would be back by the end of the night. Paul Heyman is possibly the only man left in wrestling that actually cuts a "money promo" and draw legit heat. This was a great way to kick off the show.


Citizen Kane is back. He announced a handicap match between Ryback and Curtis Axel and Roman Reigns. I looked up "no fucks given" and found this…




Handicap Match: Roman Reigns vs. Ryback and Curtis Axel: They went through commercial, it wasn't bad so much as it was bland as all hell. No one cares about Ryback and Axel, and will continue to not to care because we are given no reason to care about them. Don't get me wrong, Reigns should not have lost here because he is in a main Summerslam match, and the DQ protected Rybaxel a little. But would it have been that hard to have Orton run in and all three beat the hell out of Reigns to get some heat on him and the match pre-Summerslam? Instead, Reigns just made his own save and killed both guys. The good news is the crowd liked it, but I am sick of handicap matches as WWE has beaten them into the ground over the past few years. Reigns gave a vanilla promo post match after taking about a minute to get his breath.


Orton and Citizen Kane. Orton promised to end Reigns at Summerslam. Kane announced that Orton will face Sheamus tonight. Good to know that Sheamus is still alive.

RVD vs. Seth Rollins: This was supposed to take place last week, but we got shenanigans, Heath Slater and the big upset due to Ambrose's distraction. This is the second match in a row to go through the commercial break, which I appreciate. This was an overall fine outing, as Rollins won clean with the curb stomp. RVD is fine, but is nothing more than a name the fans react to while he puts over younger stars. And that isn't a bad thing, especially since Rollins should win heading into the PPV. Post match, Ambrose went Terry Funk and appeared out of one of Hogan's giant presents on the stage and attacked Rollins. The only bad part was that Rollins telegraphed it way too much.





Stephanie McMahon Confession… This One Time, At Band Camp…: Stephanie came out and discussed Daniel Bryan's medical condition, and introduced Bryan's physical therapist. The therapist, Megan, says Daniel and Brie are good people and she has worked hard to get Bryan better. She then accused Bryan of having an affair with her. Brie came out to confront her, and Stephanie added some insult to injury, calling Brie a dead fish. Brie slapped the chick and brawled with Stephanie and sorta applied the yes lock. Agents made the save, this sucked. Stephanie said they would finish this tonight. There was no need for this last minute bullshit, the feud had been fine, this came off as "what can we throw at the wall to see if it sticks." It was poorly done, and poorly acted. Nothing of value was presented; this was a truly horrible segment.





Jack Swagger vs. Cesaro: Hey, it's one of those rematches from a recent Smackdown. Great. Swagger was selling the ribs from the Rusev attack last week, which is appreciated. Once again, another match going through the break, which again is a nice change. Cesaro worked the ribs most of the way, but Swagger battled back to win the match. Obviously the right guy won, since Swagger is on the PPV vs. Rusev Sunday. Zeb cut the post match promo, but as he was getting to the "We The People," the Russian flag dropped and Rusev appeared with Lana to ruin their moment. Cesaro continues to work hard, despite the fact that he's just a guy right now. This was an overall solid way to build to Sunday's match.





Bray Wyatt-Chris Jericho Sit Down Interview: Wyatt kicked Michael Cole out immediately, and started to discuss Jericho wanting to please his father, disappointing his father, and then trying to become a savior. Wyatt spoke about hurting people, having no conscience, not living by man's law and the fact that he is a monster. Jericho noted that he had different faces, and he couldn't promise what Jericho would show up at Sumemrslam, but he would shut up Wyatt once and for all. This really did nothing for me as far as creating excitement for their Summerslam match. Wyatt is a great speaker, but he often says nothing of substance. I'm the eater of worlds, I have nightmares, I hear screams, I do bad things, yadda, yadda, yadda; we get it. Jericho looked constipated acting angry; this was a segment. It was performed well, but did nothing to make me want to see them wrestle again.





Non-Title Match: AJ Lee © vs. Eva Marie: They worked for 30-seconds, and then Paige skipped out. That led to Eva rolling up AJ for the win in about a minute. Paige cut a post match promo, saying she was supporting AJ tonight. She then offered an apology, in the form of a poem, noting that she would win the title. Paige's heel shtick is really enjoyable, but having AJ lose to Eva of all people, even due to a distraction, does nothing for her. WWE knew that, and she snapped and beat down Eva post match. There was pretty much no heat for the beat down. It also did not help that Eva rolled to the floor after the win to celebrate, but was then magically selling a beating to allow AJ to attack her. Also, the "poem" gimmick was a poor choice, considering we essentially had Heyman doing the same gimmick earlier in the show and much better. This show has fallen off a cliff.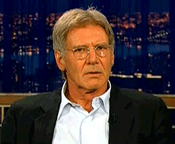 John Cena Talks: Cena mockingly addressed the Heyman promo from earlier, but noted that Lesnar would not win at Summerslam. Cena knows he will lose one day, but he would not be losing the WWE Title to Brock Lesnar. Cena stated Lesnar didn't care about the title, was disrespectful and egotistical; and he doesn't deserve the WWE Title. Cena was doing a fine job, discussing the title and such, but then went to the crutch of "I hear the boos and cheers, and chants of you can't wrestle;" which we've heard way too many times. But he still comes out here with a smile on his face. He again went serious, asking when he will unleash hell, and on Sunday we will see a John Cena we have never seen, a monster, a man that will do anything to keep the title out of Lesnar's hands. This house is not Lesnar's, it belongs to the people. But if it is Lesnar's house, there is a stranger in his house. "Try to kick me out." Cena mocked Lesnar's diverticulitis, and said Brock had a case of "punk-bitchitis". No Lesnar, so Cena vowed to conquer the conqueror at Summerslam. Not in the same league as Heyman from earlier in the night, mainly due to the fact that it felt unfocused, but an overall solid job selling Sunday's main event.





Brie Bella vs. Stephanie McMahon???: Brie is now sporting Daniel Bryan inspired maroon gear, which is cool actually. Stephanie McMahon came out in her street clothes and said we have to wait until Summerslam, if Brie makes it there. Stephanie said Megan was pressing charges, and Brie was getting arrested. Stephanie mocked her as she was cuffed and stuffed, enjoying the revenge factor from when she was arrested. Stephanie said if Brie made bail she'd see her at Summerslam. It doesn't make up for the shittiness of the earlier angle, but made sense for Stephanie to get revenge. While it made sense, but I wouldn't exactly call it great.


The Miz is out for commentary.

Dolph Ziggler vs. Heath Slater: Ziggler lost on Smackdown, so he needs a win here since he is challenging for the IC Title Sunday. Commentary played grab ass while Miz stood on the table, ignoring the early moments of the match. Both guys worked hard, lots of back and forth and then Ziggler chased Miz, who tried to distract him. Ziggler attacks Miz and ripped his suit off, leading to Slater winning via count out. This was the second distraction loss on the night, both for people who are in Summerslam matches, to people who are not in Summerslam matches. And just like in the AJ match, they tried to make you forget by having the loser get their heat back post match. It feels lazy, but I am glad that Eva and Slater grabbed wins to promote their big SummerSlam matches. Oh wait… WWE continues to value the "final image" over wins and losses, which continues to be a mistake.




Non-Title Match: Sheamus © vs. Randy Orton: Once again, this match went through the commercial break. Damn fine match between thee guys, they work really well together, and it was easily the best match on the show. It sucks that Sheamus is part of the secondary title curse, but the big picture is that Orton is part of a big Summerslam match, so he had to win here. The finish was really good, as Orton caught Sheamus coming off the top with an RKO. Good work by both guys, but damn do I hate that the IC and US Titles mean jack shit. But hey, WWE has done a spectacular job of making me not care about those titles.





Happy Birthday Hulk Hogan: They had the roster on the stage for the birthday celebration. Mean Gene and Jimmy Hart were in the ring, which made perfect sense. They showed a great video package for Hogan, WWE production a their finest. Hogan looked legit emotional following the video presentation. Hogan then promoted the Network and Summerslam, thanked the crew in the back, the WWE stars and the Hulkamaniacs. Then Ric Flair, Paul Orndorff's mustache, WCW theme music and robe, Roddy Piper, Scott Hall (who didn't sign Hogan's birthday card) and Kevin Nash all appeared. Hogan tore off his red and yellow short to reveal an nWo shirt. Nash then led the singing of happy birthday, and then BROCK LESNAR appeared with Paul Heyman. Brock sad the party was over and was about to abuse some senior citizens, but Cena ran down and had a stand off with Lesnar. Lesnar bailed, which is fine because they shouldn't touch prior to Summerslam. Sometimes that's the right call. Some fun cameos, the live crowd loved it, and the little confrontation for Sunday's main event. An overall fine closing segment, not great and I don't think that this particular segment did much to sell anyone on the PPV. Again, it's not bad and they made some right decisions, but like most of the show, it was there.


End scene.


Thanks for reading.


The Tirade


Summerslam is one of the WWE's three big shows of the year (along with WrestleMania and Royal Rumble) and you would think that all cylinders would be firing to hype the show. I did not feel that this happened tonight. Sure they made attempts to build to Summerslam, but they either missed the mark of came off poorly due to bad or lazy writing. I did like that they tried to have more wrestling, but it wasn't like it was a lot of great stuff to make up for the bad. The show felt as if it was designed for people that were already going to watch the show, not to make the people on the fence part with their money.

The only thing on this show that was designed to sell Summerslam and succeeded was the Paul Heyman promo. It was pretty much all down hill after that.

Show Rating: 9.99 (or 5.5 adjusted for reality)

As a reminder, I will be going by the 411 scale…

0 - 0.9: Torture
1 - 1.9: Extremely Horrendous
2 - 2.9: Very Bad
3 - 3.9: Bad
4 - 4.9: Poor
5 - 5.9: Not So Good
6 - 6.9: Average
7 - 7.9: Good
8 - 8.9:Very Good
9 - 9.9: Amazing
10: Virtually Perfect

The final rating is not simply an average of the rated segments above. The rating takes them into account as well as the segments that are small but not scored, the flow of the show, the overall booking, build to PPV, crowd reactions, and so on and so forth..
Have you checked out the Csonka Podcasting Network? If you haven't, you should We run anywhere from 15-20 shows a month, discussing pro wrestling, the world of MMA, the NBA, general sports, popular TV series of the past, bad movies, battle rap, interviews, MMA & Wrestling conference calls and more! Around 10 different personalities take part in the various shows, which all have a different feel; so you'll likely find something you like. All of the broadcasts are free, so go ahead and give a show a try and share the link with your friends on the Twitter Machine and other social media outlets! Running since May of 2011, there are currently over 500 shows in the archive for you to listen to.



Larry Csonka is a Pisces and enjoys rolling at jiu jitsu class with Hotty McBrownbelt, cooking, long walks on the beach, Slingo and the occasional trip to Jack in the Box. He is married to a soulless ginger and has two beautiful daughters who are thankfully not soulless gingers; and is legally allowed to marry people in 35 states. He has been a wrestling fan since 1982 and has been writing for 411 since May 24th, 2004; contributing over 3,000 columns, TV reports and video reviews to the site.


Your heart is free. Have the courage to follow it…TO CSONKA'S TWITTER!

http://www.twitter.com/411wrestling
http://www.twitter.com/411moviestv
http://www.twitter.com/411music
http://www.twitter.com/411games
http://www.twitter.com/411mma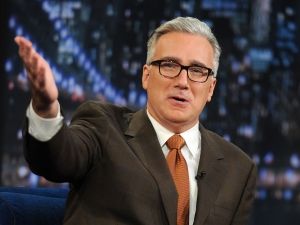 "Byyyyyyyyyyyyyyyyyyyyyye Felicia!"
comments powered by