SPOTLIGHTS
Tremendous Tirades: EVOLVE 33
Posted by Larry Csonka on 08.12.2014

Swann and Gargano finally meet in Evolution's End…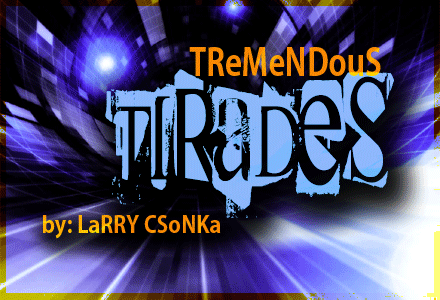 Introduction
As a reminder, this will not be another traditional recap, but instead it will be a mash up of the Rs, Instant Analysis and my usual Twitter ramblings I would do during the shows; completely uncensored and as the ideas flow unfiltered to the old keyboard. Remember, this is a review; and I am here to review the show. As always, I encourage discussion and even disagreement, just do so in a respectful manner. I will be doing the review for Raw and most PPVs and iPPVs going forward.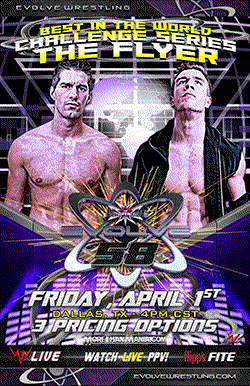 EVOLVE 33
You can order the iPPV at this link.


The show is being held outside, in what appears to be a Florida Ghetto. I'm not kidding.

Tony Nese defeated Lince Dorado via submission : Really basic and quick opener, but lacking direction overall. The whole Premiere Athlete Brand feels that way, part of that is because a few shows ago they ran through 6 shows of booking in like, two events. Perfectly fine for the time given, it was around three minutes long, but overall this was nothing special and I have no real clue what this was supposed to accomplish. Maybe someone was injured and they just wanted to deliver the promised match, but Nese has been great and this really didn't do anything to put him over more, if anything, it made Dorado look like a complete jobber. It was announced post that Su Yung was no longer a part of the Premiere Athlete Brand. Ok.
Match/Segment Rating: *


It was announced that Su Yung was no longer a part of the Premiere Athlete Brand.

Chris Hero defeated Caleb Konley: So this match got some time, about 15-minutes, and came off pretty well overall. With that being said, it was missing something for me. Part of it is Hero appearing to be a bit slow again, and part of it is the booking of Konley. The big problem with Konley right now is that he doesn't FEEL like a legit player. He has been having great in ring performances this year, and after not caring about him for the longest time, and have been won over by his work and efforts. But the problem, and maybe it is just me, is that he constantly wins by distractions and other shenanigans, which I thought were gone with the alleged reboot, but are still around. On top of that, he seems to lose almost every big time match, always the bridesmaid. I just had a hard time buying into the match because of Nese's distractions, and the fact that if Konley won I could not have possibly cared. The wrestling was good, it's the extras are the issue.
Match/Segment Rating: ***

Style Battle Tournament Match: Timothy Thatcher defeated James Raideen via submission : Short match with Thatcher going over. Again, I get the purpose of doing not as long matches and quick submissions in these matches; you have to condition the audience to know not every match will go 20 as well as to put over these guys submissions. I really like Timothy Thatcher, but James Raideen did nothing to impress me during the weekend. He just felt like another guy.
Match/Segment Rating: *¾

Style Battle Tournament Match: Biff Busick defeated Drew Gulak via pin: Beating a dead horse time, but once again put the style battle matches back to back, and again I feel that was a mistake. I have always felt that when possible, you need to break up matches that have a chance to be very similar to each other. Also, I feel Busick's match should have went first. Once Thatcher won before hand, he had no motivation to win. They could have laid out the card smarter is what I am getting at. Give us a chance to digest and appreciate the style they are presenting. Once again, the technical performances were good here, and I appreciate the chance that they gave the guys over the weekend to show those off. Most people have such a narrow opinion of what independent wrestling, but it is more than flips, flops and dives. I also appreciate the deviation from traditional match endings in these matches. They are working a different style; they are working hard but aren't building to the traditional finishing sequences. It is more a combination of counters to the style they are working, and one man getting the better and taking the victory through skill. This was a good match, but not in the league of their awesome match from last year.
Match/Segment Rating: ***


Thatcher and Busick were tied 2-1 for the weekend, but since Thatcher defeated Busick, he won the Style Battle Tournament. It does make sense because it is the tiebreaker, but felt VERY anticlimactic. If they thought that Thatcher winning this way was the best way to put him over big, I think they completely missed the mark. Thatcher cut a promo, putting over the pure wrestling and that they set a standard that a guy like Hero set for them. This led to Hero coming out; Thatcher bailing after Hero laid out Gulak with the elbow and then had a staredown with Busick. I am fine with Hero working with these guys, because his style meshes well with them and right now, working the slower and more deliberate pace will be best for Hero.


It's getting dark and the lighting is not that great.

Non-Title Champion vs. Champion Match: Open the Freedom Gate Champion Ricochet defeated EVOLVE Champion Drew Galloway via pin: They set this up the night before, and truth be told, I feel that this came off rushed. I hate when WWE does champion vs. champion matches with little to no build, and came away feeling the same here. This should have been built up to feel special because it IS special. With that being said, this was a good match, Galloway's best of the weekend. Part of that is the fact that he is working Ricochet, who is having the best in ring year of his career, and part of that Galloway is slowly breaking away from the WWE style, which has been beaten into him over the last few years. The match was good, especially down the stretch, and I feel did more to elevate Galloway than the previous two nights. Ricochet continues to be awesome.
Match/Segment Rating: ***½


Galloway cut a good post match promo, putting over Ricochet and the whole roster. He noted that he had a long way to go still, but when the shows in New York come, he would be coming for Ricochet.

Evolution's End Match: Rich Swann defeated Johnny Gargano via pin : Swann and Gargano have a long history. They used to be part of Ronin with Chuck Taylor, when Taylor split and went heel on Gargano, Swann stayed with Gargano. When Gargano turned heel as champion, he then turned on Swann, which led to a series of matches. They were supposed to face in this match at the last set of shows, but Gargano's fractured jaw prevented that. They finally faced off here, and had a great war. These guys fought with hate, and made you feel that they wanted to hurt each other here, which is exactly what it is supposed to be. They made use of the surroundings, which made the match feel like that Def Jam wrestling video game that came out forever ago. They abused each other with chair and ladders; with the finish seeing Swann hit a piledriver onto a pile of chairs, a double stomp on the ladder and then the frog splash for the definitive victory. This was a great way to end the show wrestling wise.
Match/Segment Rating: ****


Post match Su Yung, who was out for the match, gave Swann a kiss. But it was all a trap, because she low blowed Swann, leading to Nese and Konley beating him down. Gargano then came back to make the save, after some hesitation, and cleared out the heels. Swann thanked Gargano, even though he still didn't like him. He wants the EVOLVE Title.


End scene.


Thanks for reading.


The Tirade


After EVOLVE 32's rebound, I felt we once again went backwards. The early part of the show was rough, and I felt the style battle was not done very well overall and produced an anticlimactic finish. The big push heading into the weekend was the EVOLVE reboot, but to me, the shows felt largely the same. I like the six-match format, I liked a lot of what was announced, but these shows did not really feel different to me as opposed to any other EVOLVE events. Some good wrestling, distractions, running through booking too quick (Su Yung angle, Champion vs. Champion match) and at times I had more questions than answers. I love a lot of the guys they use, I generally enjoy the shows, but after all of the talk and hype about the new EVOLVE, it simply felt like the old EVOLVE. It was far from bad, but not really worth the recommendation. EVOLVE 32 was the best show of the weekend for the company.

What You Need to See: Swann vs. Gargano

Show Rating: 6.5

As a reminder, I will be going by the 411 scale…

0 - 0.9: Torture
1 - 1.9: Extremely Horrendous
2 - 2.9: Very Bad
3 - 3.9: Bad
4 - 4.9: Poor
5 - 5.9: Not So Good
6 - 6.9: Average
7 - 7.9: Good
8 - 8.9:Very Good
9 - 9.9: Amazing
10: Virtually Perfect

As a reminder, this is not a basic "how good was the show" number like a TV show, as I have always felt that a PPV is very different from a regular show. I have always judged PPV on how they built to a match, the match quality, crowd reactions to matches and angles, the overall booking, how the PPV leads into the future, PPV price and so on and so forth. I have added this in here for an explanation since so many have asked, and I have previously discussed it on podcasts. I understand that this may seem different, but that is how I grade. Obviously your criteria may be different.

Have you checked out the Csonka Podcasting Network? If you haven't, you should We run anywhere from 15-20 shows a month, discussing pro wrestling, the world of MMA, the NBA, general sports, popular TV series of the past, bad movies, battle rap, interviews, MMA & Wrestling conference calls and more! Around 10 different personalities take part in the various shows, which all have a different feel; so you'll likely find something you like. All of the broadcasts are free, so go ahead and give a show a try and share the link with your friends on the Twitter Machine and other social media outlets! Running since May of 2011, there are currently over 500 shows in the archive for you to listen to.



Larry Csonka is a Pisces and enjoys rolling at jiu jitsu class with Hotty McBrownbelt, cooking, long walks on the beach, Slingo and the occasional trip to Jack in the Box. He is married to a soulless ginger and has two beautiful daughters who are thankfully not soulless gingers; and is legally allowed to marry people in 35 states. He has been a wrestling fan since 1982 and has been writing for 411 since May 24th, 2004; contributing over 3,000 columns, TV reports and video reviews to the site.


Your heart is free. Have the courage to follow it…TO CSONKA'S TWITTER!

http://www.twitter.com/411wrestling
http://www.twitter.com/411moviestv
http://www.twitter.com/411music
http://www.twitter.com/411games
http://www.twitter.com/411mma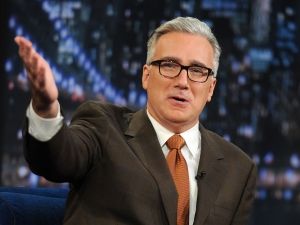 "Byyyyyyyyyyyyyyyyyyyyyye Felicia!"
comments powered by