SPOTLIGHTS
411ís WWE Main Event Report 8.12.14
Posted by Alex Crowder on 08.12.2014

Seth Rollins went one-on one with Kofi Kingston! The Usos defended the Tag Team Championship and more! Check out 411ís WWE Main Event Report for all the details!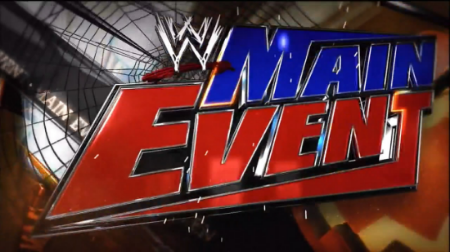 WWE MAIN EVENT 8.12.14



We start off the show with the Usos. The announcers put over the Usos' open challenge from Raw. USO chants greet them. Jey says he's been hearing rumors that the Authority issued an open challenge for the Usos, but truth is the Usos issued the challenge. Jimmy says they want to be known as one of the best damn tag teams ever. Jey lists the Hart Foundation, a decent Road Warrior impersonation, The New Age Outlaws, and for those with 5 seconds Edge and Christian. Jimmy asks him if he's been watching the WWE Network. The crowd chants 9.99. Jey says how much was it? They open up the challenge for the tag team championships. Rybaxel accepts the challenge.

Curtis Axel tells them that they are tough and fake claps. He says he loves these guys and to consider their challenge accepted. Ryback says playtime is over and so are we. He says they'll look great against his waist and the Ax-Mans. Rob Van Dam makes his way to the ring. RVD asks everyone what is up. RVD says if they are looking for a challenge look no further then RVD. Ryback calls him a big dummy and singlet stealing feed me more. He needs a partner. RVD said he knew he forgot something. RVD tells his partner to come out as Sheamus makes his way out. Philips calls them The Celtic Frog Splash, and then all of them get into light pushing.

Corporate Kane makes his way to the ramp. There is no reason to argue because there will be a triple threat for the tag team championships.

They recap the Lesnar and Cena feud.

Seth Rollins is in action next.

-commercial break

They show highlights of Ambrose's attack on Rollins from Raw last night.



"Mr. Money in the Bank" Seth Rollins vs. Kofi Kingston


Rollins and Kofi lock up as Rollins pushes him into a corner before applying a boot choke. Kofi fights out and leaps over Rollins, but Rollins counters with a shot to the midsection. Rollins starts pounding away grounding him. Rollins continues to attack Kofi dropping an elbow. This leads to a hair pull and falling neckbreaker. 1..2..kickout. Rollins keeps him down with a tight chinlock. Kofi tries to fight up. The crowd starts a loud you souled out chant. Rollins smirks towards them, and Kofi wakes back up. Kofi with chops and a high elevation dropkick. Rollins goes for a belly-to-back suplex. Kofi backflips out and pushes Rollins to the outside. Kofi follows it up with an awesome plancha. Kofi throws him in and Rollins escapes lifting him in a belly-to-back suplex on the outside. Rollins drops Kofi's midsection on the barricade.

-commercial break

We return with Rollins splashing Kofi until the feed freezes. Once I reload Rollins has Kofi grounded again. They trade pins with Rollins getting the better. Rollins charges a downed Kofi and eats a kick to the face. Kofi hits the springboard forearm. Kofi continues his assault with midsection kicks and a back body drop. Kofi takes him out with the flying forearm and boom drop. Kofi calls for trouble in paradise and misses. Rollins gets the go behind, but the O'Connor Roll misses. Kofi comes off the top with the cross body. 1..2..kickout. Rollins recovers and throat thrusts Kofi. Rollins hits the complete shot on the turnbuckle. 1..2..kickout. Rollins lifts Kofi for a running powerbomb that Kofi reverses into a hurricanrana to the post. 1..2..kickout. That was pretty awesome. Kofi follows it up and connects on the SOS. 1..2..kickout! Rollins finally regains the advantage on the rope hot shot. Rollins goes to the top and is crotched. Kofi climbs up and goes for the Superplex. Rollins fights out and hits a sunset flip powerbomb to turnbuckle. Rollins connects on the Curb Stomp. 1..2..3!

OFFICIAL RESULT Seth Rollins: @ 10:00 via pin
MATCH THOUGHTS: This was a really good match, not that I expected anything else. Great match between two good workers. They had some nice sequences; especially, the hurricanrana running powerbomb counter. Great opening match for tonight's Main Event.

Sheamus and RVD are interviewed by Renee. RVD says it has been a long time since we saw RVD with championship gold. For the record, Sheamus approached RVD. Sheamus says they are not traditional but it makes perfect sense. RVD says they are yin and yang. Sheamus says he'll see him out there fella, as RVD subtly flirts with Renee. The interview ends and we go to commercial.

They go to a recap of the Stephanie and Brie Bella feud.

-commercial break



World Tag Team Championship: Sheamus and Rob Van Dam vs. Rybaxel (Ryback and Curtis Axel) vs. The Usos(c)


We start this triple threat tag match with Jimmy and Ryback. Jimmy gets the go-behind while avoiding Ryback. Ryback reverses and slams Jimmy down and taunts with slaps. Jimmy gets pissed and slaps him to the ground. Jimmy keeps advantage before Jimmy hits a nice leg lariat. 1..kickout. Jimmy makes the tag leading to a Jey leaping forearm. Sheamus tags himself and elbows Ryback down before entering. Jey avoids a Sheamus clothesline with a roll-up for 1. Ryback tags himself in on Jey Uso getting revenge on Sheamus. Ryback hits the clubbering blows in the corner. Sheamus reverses a whip and tags in RVD. Sheamus hits the rolling fireman's carry slam and RVD comes in with Rolling Thunder. RVD goes up top and Curtis tries to hit him off. RVD kicks him off the apron and dives on both of Rybaxel on a diving Cross Body.

-commercial break

Sheamus leaps over Ryback on our return and hits ten beats. Sheamus continues his attack on the slingshot shoulderblock. Curtis distracts Sheamus leading to a Ryback powerbomb. Ryback slowly pins Sheamus. 1..2..kickout. Ryback suplexes Sheamus onto the ropes and drapes him against them. He follows that up with a diving elbow to Sheamus' back. Curtis is tagged in and stomps Sheamus to the ground. He makes sure to taunt Sheamus. Curtis pulls off an anaconda choke, and transitions it to a headlock!!! Ryback comes back in and stomps him down. Ryback hits a Spinebuster on Ryback. 1..2..kickout. Ryback keeps Sheamus grounded on the chinlock. Sheamus goes for the slingshot shoulderblock and Ryback catches it. Sheamus leaps out and hits White Noise. Both men are down. Curtis Axel and RVD are tagged in. RVD hits a backwards springboard thrust kick. RVD hits the standing moonsault. 1..2..kickout. RVD is blind tagged by the Usos. Jimmy Uso hits a cross body for a close 2. He continues with a superkick to the midsection and kick to the head. Jimmy ducks an Axel polish hammer and hits Whisper in the Wind. Sheamus Cactus Clotheslines Ryback to the outside and gets followed by a Jey cross body over the top. Curtis gets a quick roll-up for a close 2. Jey follows that with a Samoan Drop for 2. Sheamus tags himself in and the match breaks down. Sheamus is superkicked out. RVD hits the five star frog splash on Curtis Axel. Jimmy makes the blind tag on Axel and hits RVD with a diving cross body. 1..2..3!

OFFICIAL RESULT: The Usos @ 13:00 via pin
MATCH THOUGHTS: This was a good match that the triple threat rules helped. This brought a certain chaos to the match; that made it much more enjoyable. Also, this match got a good amount of time like the first match. Another good match tonight, making both matches worthwhile.


FINAL THOUGHTS: My one problem with this week's Main Event is the long opening promo. It is nice that they establish the match through promos, but they could probably do it in a shorter amount of time leaving more wrestling. Regardless, the wrestling that was present on the show was good. Rollins and Kofi have great chemistry and had a good ten minute match. The first thing I love about the second match is that it was for the Tag Team Championship. Secondary titles should be defended more on weekly shows, so that was nice to see. The match itself was interesting too with triple threat tag rules. Good episode of Main Event that focused all of its energy into two matches. My only complaint is the opening promo. This was a strong episode tonight except the recaps. Thanks to any who read the report!

comments powered by