SPOTLIGHTS
Tremendous Tirades 8.18.14: WWE Monday Night Raw
Posted by Larry Csonka on 08.18.2014

I for one welcome our new overlord and his advocating Jew…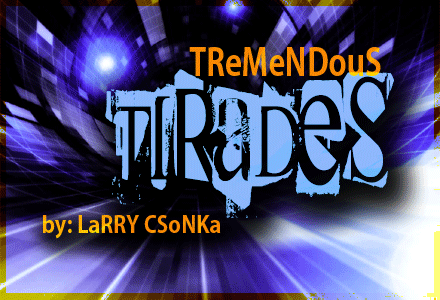 Introduction
As a reminder, this will not be another traditional recap, but instead it will be a mash up of the Rs, Instant Analysis and my usual Twitter ramblings I would do during the shows; completely uncensored and as the ideas flow unfiltered to the old keyboard. Remember, this is a review; and I am here to review the show. As always, I encourage discussion and even disagreement, just do so in a respectful manner. I will be doing the review for Raw and most PPVs and iPPVs going forward.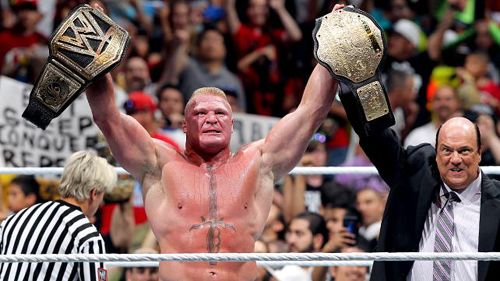 WWE MONDAY NIGHT RAW 8.18.14
OFFICIAL RESULTS
Big Show and Mark Henry defeated Harper and Rowan @ 11:30 via pin [**¾]

Non-Title Match: Natalya defeated Paige © via pin @ 1:40 [NR (under three minutes)]

IC Title Match: The Miz defeated Dolph Ziggler © @ 7:15 via countout [**]

Cesaro defeated Jack Swagger @ 4:20 via pin [**]

Reigns, Sheamus and RVD vs. Orton, Ryback and Axel @ 11:15 via pin [***¼]

Non-Title Match: Goldust and Stardust defeated The Usos © @ 5:50 via pin [**½]

Falls Count Anywhere: Seth Rollins defeated Dean Ambrose @ 20:25 via curb stomp of death/doctor's stoppage [****¼]


Stephanie McMahon Tricks The Fans – It All Goes Down Hill From There: Daniel Bryan's music hit to kick off Raw, but is was simply Stephanie McMahon playing mind games with the fans. She came jumping out with her "STEPH! STEPH! STEPH!" shirt. She largely said nothing; she praised Summerslam and gave a little recap, and then got into her victory. Stephanie brought up last week's horrible angle about Bryan cheating on Brie, and then brought out Nikki to "set the record straight". Nikki came out (wearing black because Lesnar killed Cena last night) and did the "Marcia, Marcia, Marcia" routine, the crowd gave no fucks as they chanted WHAT several times. One day, wrestling companies will realize that they do NOT have to open the show with the opening promo. But not only that, we're actually wasting the opening segment of the Raw after Summerslam on Jan and Marcia feuding while Stephanie pimps the network. Nikki and Stephanie's interaction was not good, and of course that brought out Brie. She got slapped, the crowd chanted that Nikki sold out but there was no real emotion, they are just playing along. I had no desire to see the feud going into the show, and they did nothing to change my mind here. This is not the way that I would have followed up from last night's Summerslam PPV.

Hoss Tag Team Battle Smackdown Rematch Special: These teams faced off on Smackdown, with Show and Henry winning in a little over 5-minutes. They got double the time that they did on Smackdown, and overall delivered a fun opening match. Luke Harper continues to impress in almost every outing, and Rowan is also noticeably improving. Show and Henry seem to be the flavor of the month for the tag team division, which is a shame because they built Harper and Rowan well, and they delivered great matches, but now they have killed their momentum in favor of the new Hoss Super Team.


Flair met with Ziggler and gave him words of support. Miz arrived, was a douche, and they made fun of him.


Rollins cut a promo about beating Ambrose, Ambrose gave him the old ALS ice bucket sneak attack, noting, "What, it's for charity!"


An angry Rollins met with Triple H and Citizen Kane. They announced another rematch for tonight.

When Paige Met Natalya: Paige made sure to note that she loves and respects AJ, and would be dedicating the match to AJ. They worked for a minute or so, AJ came skipping out to play mind games with Paige, which led to the Raw distraction finish for Natalya. I am completely sick and tired of that finish. I get what they are doing, especially with AJ saying she loves and respects Paige to mess with her, but I have no clue how you are building anyone as credible when they are constantly losing in a minute, even if it is due to bullshit distractions.

Our Conquering Overlord Receives His New World Title: Triple H and Stephanie came to the ring for the big ceremony. Triple H put over Summerslam, and the main event before revealing the new title. He then announced Lesnar. Lesnar, Heyman, Triple H and Stephanie all took time for a photo op, and then posed for the crowd. Triple H and Stephanie then left the ring to Heyman and Lesnar, and then Heyman took over. Heyman did the usual stuff, putting over his client and explained that Cena is not here because he physically cannot be here. Heyman put over the complete ass beating that Cena received, and the fact that Cena was the top star of his generation. He made sure to note that Austin and Rock had short runs on top, but that Cena has been running on top for a decade. He praised Cena because any man would have been done after 30-seconds, but not Cena. Heyman said he got why people loved Cena (including his kids, which pisses him off) because he never gives up. Heyman respects Cena, and would make him a Heyman guy if he had the time. Heyman putting Cena over here was awesome, because not only is he putting over Cena as a fighter and champion that refuses to give up, but his client is the man that made Cena a martyr. That is what makes Heyman so good. Heyman said anyone that challenges Lesnar is just a man, but he represents a beast. All title defenses from Lesnar will be must see and special. Eat, sleep, suplex, repeat. Once again, Paul Heyman not only gets his man over, not only gets the title over, but also got Cena over in defeat. It was good, but not great as most of Heyman's work was recently.

Summerslam IC Title Rematch: They teased the knee injury very early in the match, which actually gives the Miz a reason to work over the knee. I note this because the guy uses the figure four 99% of the time with NO set up. Now, he has that. Miz worked the knee, and it led to Ziggler getting counted out in a "this feud must continue" finish. I really think that night one that they should have given Ziggler someone to have a fine match with, but also one that allows him to have a dominant victory. They post match, Miz demands his rematch and you do it on Main Event, to push people to the network show. The way they did it didn't exactly help the stigma of the secondary titles/champion. The match was fine for what they were trying to do (continue the feud) but wasn't as good as last night's match.

When Cesaro Met Swagger… Again: So these guys met last week on Raw, and earlier this month on Smackdown. Again, we have that repetitive feeling when these guys aren't even feuding. They once again had a perfectly fine match, Cesaro scored the win with an eye poke and the neutralizer, and Swagger was left looking completely disappointed in the ring. Bo Dallas came out to remind Swagger about how many people he let down at Summerslam, and told Swagger to Bo-lieve. I am not quite sure what they are going for. Swagger lost to the foreigner, he let down the country, and then turns around and loses again. Zeb is out of the equation, at least for the time being, so I would guess that they are working on a direction change for him.


Show vs. Rowan is set for Main Event tomorrow night.

Reigns, Sheamus and RVD vs. Orton, Ryback and Axel: At least this isn't a straight rematch. The match plays off of Reigns and Orton from last night, as well as the tag title match from Main Event where RVD and Sheamus teamed to face Ryback and Axel and the Usos. It's better than the regular rematches they have opted for tonight. The Vegas crowd loved the local boy Ryback, and cheered big time for him to get into the match. This was the usual WWE six-man, really fun with everyone working hard. They built to a big Reigns hot tag, he hit all of his signature shit until Orton cut him off. This led to the big old finisher buffet, leading to RVD finishing things off with the frog splash. I felt the finish was odd, Axel taking out Reigns, leading to RVD of all people getting the pin. You'd think that Sheamus (he is the US champion) or Reigns (the rumored chosen one) would have gotten the victory. Overall a really enjoyable tag match, and one would think that Orton vs. Reigns continues.


Flair tried to give Orton advice, Orton gave no fucks.

Hey, the Usos are alive!: Nice to see both teams back on TV, the Usos were on a good roll and then since they decided that they weren't going to be on Summerslam, sidelined them for the most part. The Rhodes boys have been searching for the Cosmic Key, no word if they found it or not. They had a solid, but largely average match, with the challengers getting the victory to set up a future tag title match. It was fine, but not presented as all that important. The faux emotion from the announce team was bad, as commentary in 2014 continues to be poor.


Randy Orton faces RVD on Smackdown this week.

Rusev Gonna Get His Ass Whipped?: Lana came out and did the usual discussion of Putin, noting that Russia is proud of Rusev. Mark Henry appeared to support America as a former Olympian. Summerslam made him sick, sick to his stomach to see the Russian flag waved in his country. Henry told Rusev that the power is not gone in the US, and said he'd put Rusev in the hall off pain. They brawled, but Rusev was still hurt and selling the ankle, leading to Henry hitting the world's strongest slam. He followed with the big splash and stood tall. Somewhat confusing booking here, as Henry seemed positioned to be a tag team guy early in the show, but now appears to be transitioning to a short-term feud with Rusev. That's fine as long as Rusev destroys him as he has done with everyone else.


The WWE Network will have a special focusing on Reigns, Rollins and Ambrose to the Summerslam PPV. It airs Wednesday at 8PM ET.


John Cena addresses the WWE Universe next week.

Ambrose vs. Rollins - Falls Count Anywhere: This of course is the follow up to last night's lumberjack match. They set it up earlier by Ambrose attacking Rollins, and Rollins wanting to take out Ambrose for good. Love these guys, they not only work to the stipulation and have good matches, but they make you believe that they hate each other. And that's an advantage that they have over Reigns at this time, the fans are truly emotionally invested in these guys, while Reigns just stopped giving a fuck. Ambrose is still pissed about Rollins turning his back on the Shield, he is fighting for what's right, and getting screwed by the Authority while fighting for what he believes is right. They used chairs and kendo sticks, and also did a sick running sit out powerbomb spot onto a pile of chairs. Citizen Kane appeared, likely appearing to ruin the fun, and Rollins introduced a table. He laid Ambrose on it, looking for a super curb stomp, but Ambrose fought back and hit a superplex. Ambrose fought off Kane, hit dirty deeds, but it is 2014, so Kane ruins everything that is fun in wrestling. Ambrose fought off Kane again, did his running dive off of the announce tables and took control back. Kane chokeslammed Ambrose on the announce table, leading to a Rollins curb stomp on the announce table. Kane then revealed hidden cinder blocks, and Rollins fucking karate kid curb stomped Ambrose through the blocks. The doctor and ref called off the match. With Ambrose heading off to work on a WWE movie, this was an effective way to write him off the show. The crowds LOVE Ambrose, and they know that Kane and Rollins screwed him again, so in theory when he returns for revenge, they should explode. These guys are not only good, but they have amazing chemistry.


End scene.


Thanks for reading.


The Tirade


With five weeks to build towards the Night of Champions PPV, this was the definition of a placeholder show. They did a lot of rematches, which were all designed to keep the feuds going. That's largely fine, but for the most part, it did not make for a very interesting show. There was some good wrestling though, the opening Hoss Tag Match, the six-man tag and Rollins vs. Ambrose. But the show felt overly long tonight, it had that drag factor and at one point I looked at the clock and realized I was only half way through when I thought I was much further into the show. I likely would have scored this a bit lower, but the main event was awesome and the work of Rollins and Ambrose has been superb over the last two days. Add in some other good wrestling, and it was a "good", but overall you can forget 90% of this show.

Show Rating: 7.0

As a reminder, I will be going by the 411 scale…

0 - 0.9: Torture
1 - 1.9: Extremely Horrendous
2 - 2.9: Very Bad
3 - 3.9: Bad
4 - 4.9: Poor
5 - 5.9: Not So Good
6 - 6.9: Average
7 - 7.9: Good
8 - 8.9:Very Good
9 - 9.9: Amazing
10: Virtually Perfect

The final rating is not simply an average of the rated segments above. The rating takes them into account as well as the segments that are small but not scored, the flow of the show, the overall booking, build to PPV, crowd reactions, and so on and so forth.
Have you checked out the Csonka Podcasting Network? If you haven't, you should We run anywhere from 15-20 shows a month, discussing pro wrestling, the world of MMA, the NBA, general sports, popular TV series of the past, bad movies, battle rap, interviews, MMA & Wrestling conference calls and more! Around 10 different personalities take part in the various shows, which all have a different feel; so you'll likely find something you like. All of the broadcasts are free, so go ahead and give a show a try and share the link with your friends on the Twitter Machine and other social media outlets! Running since May of 2011, there are currently over 500 shows in the archive for you to listen to.



Larry Csonka is a Pisces and enjoys rolling at jiu jitsu class with Hotty McBrownbelt, cooking, long walks on the beach, Slingo and the occasional trip to Jack in the Box. He is married to a soulless ginger and has two beautiful daughters who are thankfully not soulless gingers; and is legally allowed to marry people in 35 states. He has been a wrestling fan since 1982 and has been writing for 411 since May 24th, 2004; contributing over 3,000 columns, TV reports and video reviews to the site.

Your heart is free. Have the courage to follow it…TO CSONKA'S TWITTER!

http://www.twitter.com/411wrestling
http://www.twitter.com/411moviestv
http://www.twitter.com/411music
http://www.twitter.com/411games
http://www.twitter.com/411mma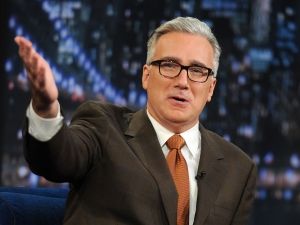 "Byyyyyyyyyyyyyyyyyyyyyye Felicia!"
comments powered by