SPOTLIGHTS
411ís WWE Main Event Report 8.19.14
Posted by Alex Crowder on 08.19.2014

Erick Rowan went one on one with Big Show! Triple H made an important announcement. Nikki Bella went up against Emma, the Los Matadores and Slater Gator faced off and more! Check out 411ís WWE Main Event Report for all the details!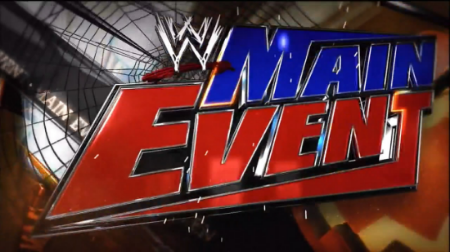 WWE MAIN EVENT 8.19.14





Non-Title Match: Sheamus (United States Champion) vs. Curtis Axel


Cole will be announcing tonight with Sexton. Cesaro comes out in a suit before the match can begin. He joins the announce team. Sheamus powers Curtis into a corner. Cesaro says he is Mr. International and knows five languages. Sheamus shoulder blocks Curtis down and follows with a headlock. Sheamus hip tosses Curtis and scoop body slams him. Cesaro is offended by Cole calling him Swedish. Curtis goes to the outside to retreat. He uses that to sucker Sheamus in and pounds away in a corner. Cesaro seems to be in full heel mode on commentary ragging on Cole mostly. Sheamus catches Curtis with a body slam to regain advantage. Sheamus is going for ten beats but Curtis hits a sitting stunner against the ropes. Curtis runs in and is met with a running forearm. Curtis kicks Sheamus in the leg before sending him through the ropes with a running knee. Curtis rolls out and throws him in for a 1 count. Curtis stomps Sheamus down and throws him to a corner and Sheamus counters. However, Curtis ends his momentum quickly hanging him on the ropes in tree of woe. Cesaro puts over both competitors as the match progresses. Curtis chokes Sheamus from the outside and stomps his head. 1..2..kickout.

-commercial break

We return with a grounded Sheamus trapped in a chin lock. Sheamus ducks a Curtis charge and hits a shoulder thrust. That is followed up by a slingshot shoulderblock that Curtis counters with a nice right. Curtis Axel connects on the Perfect-Plex. 1..2..kickout. Curtis seems shocked and starts pounding on Sheamus. Then, Curtis makes him really angry by slapping him in the corner. Sheamus is pissed and starts pounding on him. Sheamus sends Curtis down with running forearms and a knee trembler. Cesaro corrects Cole on the Harley knee. Sheamus goes up top and hits a spinning back elbow. Sheamus points to Cesaro and hits ten beats. Sheamus lifts Axel and drops him on the rolling fireman's carry slam. Sheamus hits the Brogue Kick. 1..2..3.

OFFICIAL RESULT Sheamus: @ 10:00 via pin
MATCH THOUGHTS: Cesaro did a great job on commentary by putting over both competitors. Sheamus and Axel did good work and it is nice to see the show start off with wrestling again. Great start to the show.

Cesaro takes the United States Championship after the match and throws it to Sheamus with a smirk.

Triple H has a special message for us. John Cena officially submitted his request for a World Title rematch and it will take place at Night of Champions. This is one of the biggest rematches in WWE history.

-commercial break



Nikki Bella vs. Emma


Emma and Nikki lock-up with you souled out chants filling the arena. Nikki overpowers Emma. Nikki then gets a roll over takedown. They both get back to a vertical base leading to an Emma O'Connor Roll for a 1 count. Emma with another pin for 1, but Nikki gains control again hitting a missile dropkick for a 1 count. Nikki gets Emma in a kneeling guillotine choke. Emma fights out, but Nikki grabs her and hits a knee to the face for 1. Nikki grabs the kneeling guillotine choke again, and the crowd gets behind Emma. She stands up with and Emma starts to fight out until Nikki knees her in the midsection. Nikki at least shows nice heel mannerisms, it seems to fit her better. Emma gets Nikki in the Tarantula. Emma lets go and misses the diving cross body. Nikki hits a powerful forearm to send Emma to the ground. Nikki lifts Emma in a reverse death valley driver and drives her knees into the mat similar to the train wreck. 1..2..3.

OFFICIAL RESULT: Nikki Bella @ 5:00 via pin
MATCH THOUGHTS: These two did well for 5 minutes. Emma really seemed to bring the best out of Nikki Bella. I think the heel mannerisms like for Cameron actually fit Nikki better than her being a face. Both matches so far are good, so great start to the show.

Big Show and Mark Henry join Renee Young. Big Show is excited to face Erick Rowan. He says he is a big red haired monster. He says this will be an ugly match but he may bring out luchador moves. Mark says no. He says just win. Show says he'll go out there and try to win. Henry says just go out there and win, so we can eat. Show says this is why he loves Henry. Both men leave.

They replay the announcement from Triple H that happened just 10 minutes ago.

John Cena returns on Raw next Monday.



Slater Gator (Heath Slater and Titus O'Neil) vs. Los Matadores (Diego and Fernando) with El Torito and Lavakita (Hornswoggle as a cow)


Heath seems annoyed with Hornswoggle as a cow and Titus blames the commentary team. Heath laughs at Hornswoggle. Heath and Diego lock-up leading to shoulderblocks that send Heath down. Heath leapfrogs over Diego, but is hit by a springboard cross body for a 2. Heath back body drops Diego who leaps on the turnbuckle. A tag is made and a snap suplex is followed by a Fernando splash. Fernando hits a hurricanrana and corner whips Heath. Heath avoids and tags to Titus. Titus lifts Fernando in a double rib breaker and the power toss. Titus hits some big chops and he tags in Heath. Heath starts pounding Fernando in a corner. Heath grounds him in the chinlock. Diego, the cow, and Torito get the crowd into it. Fernando reverses a whip and hits facebuster. Diego is tagged in and connects on a springboard strike and flying forearm. Diego puts his hand out to stop Heath. Diego back elbows him and hits a reverse springboard blockbustker. 1..2..kickout. Titus hits Fernando down. Heath throws him down, but that leads to Diego getting a roll-up and small package for 2. Heath hits a lifting DDT. 1..2..3.

OFFICIAL RESULT: Slater Gator @ 6:00 via pinfall
MATCH THOUGHTS: That was another good match. I always love seeing Los Matadores high flying offense and it complimented Slater Gator well. Slater Gator continue to pick up victories on Main Event and might be in line for a tag title shot in the coming months if the momentum continues.

He attacks Torito after the match, but Lavakita intervenes. Heath just laughs at him. Torito hits Heath's face into the utter and they throw Heath into Titus. Heath and Titus say oh hell no and run in, but Lavakita and Torito run.

Luke Harper says we may have walked amongst the clouds, but he taught us you must pay for our sins. Tonight, the Giant comes crashing down. Erick Rowan says run.

-commercial break

They show highlights of the Ambrose and Rollins feud from Summerslam and Raw last night.

Renee Young is joined by Mr. Money in the Bank, Seth Rollins. Seth says he didn't choose the stipulation, but Dean Ambrose's blood is on the WWE Universes' hands. I mean he is the company of fallen heroes like John Cena and Jericho who lost. Jack Swagger was the biggest loser of all. Jack interrupts and says he is tough without Kane. Rollins says Jack is tough without grandpa Colter around. Rollins says his foot put Ambrose's face into the cinderblocks. Rollins says if Jack wasn't taking a nap. Jack says he is wide awake right now. Rollins says he'll fight him, but not tonight. He'll see him Friday on Smackdown and after he is done, he can join Dean Ambrose on the missing person's list.

-commercial break



Big Show with Mark Henry vs. Erick Rowan with Luke Harper


Rowan locks up with Big Show and headlocks him. Show can't seem to get out until he pushes him out and ducks under. Show follows with a shoulderblock and clothesline to the outside. Rowan recovers on the outside. Show tries to whip Rowan, and is reversed. Big Show ends up driven into the post. Erick Rowan pounds on Big Show. Erick starts pounding him into the mat, but Show fights back and starts corner chopping him. Big Show hits a reverse corner splash and they run the ropes. Erick regains the advantage on the chopblock. Rowan blocks the big boot and drops to his knees driving it to the mat. Rowan hits a clothesline for a 1 count. Rowan hits a big knee on Show. Rowan punches Show down and Henry gets fired up on the outside. Rowan hits a corner splash on Show. Rowan grounds Show with the knuckles to the temple. Rowan follows up with a knee to his back. They start trading strikes and Big Show gets some momentum hitting a side russian leg sweep. Both men recover slowly and Rowan is up first connecting on a big boot. 1..2..kickout. Rowan sends his knuckles into Show's temple again. Show finally fights out tossing him over his shoulder. Show limps and runs into a Rowan knee. Rowan continues his assault with a top rope diving elbow. Rowan waits for Show to get up. Rowan scoop body slams Big Show. 1..2..kickout. Rowan again taunts waiting for Show to return to his feet. Show fights out and hits the knockout punch. Show slowly covers. 1..2..3.

OFFICIAL RESULT: Big Show @ 8:00 via pinfall
MATCH THOUGHTS: Big Show basically got dominated the majority of the match. I think this was a great learning experience for Erick Rowan and he continues to improve at a quick rate. This was a decent little match, and probably better than I expected. This was a great way to end tonight's Main Event.


FINAL THOUGHTS: The opening match between Sheamus and Curtis Axel was good and got time to develop. The following match with Nikki Bella and Emma was better than I expected. Slater Gator and Los Matadores had a good match that was fun to watch. Triple H made an important announcement on this edition, which adds importance to the show. Big Show defeated Rowan in a main event that gave Rowan a chance to shine. All the matches were decent or good. This edition of Main Event was wrestling heavy which I loved and didn't start with a long-winded opening promo for once. My only gripe is Cole's commentary with his constant hashtags. The commentary is generally just straight forward and focused on wrestling, but Cole ruined that this week. Regardless, this was a good wrestling heavy episode of Main Event. Thank you to all who read the recap.

comments powered by