SPOTLIGHTS
411ís WWE Main Event Report 9.2.14
Posted by Alex Crowder on 09.02.2014

Los Matadores went against the Dust Brothers! Natalya and Rosa Mendes faced off with Summer Rae and Layla and more! Check out 411ís WWE Main Event Report for all the details!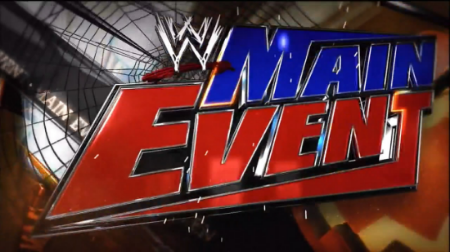 WWE MAIN EVENT 9.2.14



We start off with Damien Mizdow in the ring. The crowd boos him heavily before he says anything. "Before we get things started, Miz congratulations on your victory over Dolph Ziggler on Monday, and congratulations on not being here right now. Welcome to must see TV in MIZ TV." He is about to go into a movie Miz is in until Dolph Ziggler interrupts. Damien Mizdow tells Dolph to look at this before saying a word.

They show Miz's victory over Dolph from Raw.

Dolph says this is you. You're out here pretending to be Miz. Damien says he doesn't pretend. Dolph says he got lucky one time. Damien says nope that was skill. Damien says how dare him come on his show and say this. Dolph says really? As they trade reallys until Damien gets angry. Damien says he is a performance artist and the greatest the WWE has ever seen. Damien eggs on the crowd and says he is years ahead of time. Damien says maybe he is a fan of the Miz or he'll wait until Miz defeats Dolph for the IC Title and get his title match. Dolph says what if he steals the show and remains IC champion. Dolph asks him what he will do then. Dolph makes fun of him for taking other personas. Dolph says he should go to the persona that suits him the most in the ballerina. Dolph dropkicks Damien Mizdow out the ring. Damien shouts that it is his show.

-commercial break



Non-Title Match: Damien Mizdow vs. Intercontinental Champion Dolph Ziggler


Damien Sandow is wrestling Dolph as we return from the commercial. Apparently, the authority made this match during the break. Damien quickly gains the advantage with a snapmare takedown. Damien keeps him grounded in a chinlock and pins him for 1. He continues with his snapmare keeping him in a sleeper. Dolph fights to a vertical base, but Damien sends him back down with a leg kick. Damien puts him in an armlock and bodyscissors. Dolph tries to fight out and hits a punch until Damien drapes his throat against the ropes. Damien starts pounding him and hits a running knee to the back of Dolph Ziggler. Damien gets a snap suplex on Dolph. 1..2..kickout. Damien goes for the figure four leglock but it is countered into a small package by Dolph. 1..2..kickout. Both men are up, and Dolph is sent back down on a running forearm. 1..2..kickout. Dolph hits a jumping jawbreaker causing both men to go down. Damien recovers first and charges Dolph hitting his shoulder against the post. Now both men are down again as Dolph uses the ropes to pull himself up. Dolph hits a few flying forearms, corner splash, and falling neckbreaker. Dolph goes for a fame asser but Damien rolls him by the tights. 1..2..kickout. Dolph tries again and connects on the fame asser. 1..2..kickout. Dolph gets a front facelock but Damien catches him on a backbreaker into a falling neckbreaker. Damien goes for the figure four and Dolph kicks him off. He leaps up and hits the Zig Zag. 1..2..3.

OFFICIAL RESULT Dolph Ziggler: @ 6:00 via pin
MATCH THOUGHTS: This was a decent little match to start things off. I only wish the promo was shortened to give the match more time. Good work by both men.

They recap the Bella saga from Raw. I have to say it was a nice touch from Paige to grab the title as soon as she was pushed, shows an obsessive nature for the title.

Jerry Springer will host a Bella Intervention I think they said on Raw last week.

-commercial break



Natalya and Rosa Mendes vs. Summer Rae and Layla


Rosa and Summer go for a lockup but Rosa ducks and rolls her up for 1. She follows up with some arm drags and an interesting dropkick for 1. Rosa hits a snap suplex and kick to the stomach to send Summer out. Rosa goes out after her and forearms both Layla and Summer. When she tries to go in the ring Layla pulls her against the apron. Summer takes advantage as Layla makes the tag. Layla seems to let Rosa get counted out but brings her in at 6 or 7 for some reason. Layla mounts Rosa and pushes her head into the mat. Rosa pleads for Natalya. Rosa ducks under Layla and tries to crawl away, but is quickly cut off by Layla. Summer is tagged in and hits a clothesline. 1..2..kickout. Summer gets her in a front face lock and Layla is tagged back in with the boot choke. She follows with a headscissors on the rope. The crowd actually chants Rosa but Layla hits a dropkick and tags back in Summer. Summer covers her for 2. Rosa recovers and makes the hot tag. Natalya hits the snap suplex and running stomp to head. Natalya follows with the discus lariat. Natalya goes for the sharpshooter, but Summer escapes and tags in Layla. Natalya and Layla collide. Rosa makes a tag as Natalya and her argue. Layla hits the Bombshell kick. 1..2..3.

OFFICIAL RESULT: Summer Rae and Layla @ 5:00 via pin
MATCH THOUGHTS: This was certainly better than I expected. Rosa seemed a little awkward in the ring, but she didn't botch anything. At least, it adds some character to Rosa and Natalya if nothing else. This match was decent. I would say probably better than it had any right to be.

-commercial break

They recap the Highlight Reel from last night.
John Cena returns on Smackdown this week.

They show highlights of the Goldust and Jimmy Uso match from Raw



Dust Brothers (Goldust and Stardust) vs. Los Matardores(Diego and Fernando)


There is no Torito this week due to the Dust Brothers attack on Torito last week. Stardust and Diego lock-up but neither man gains the advantage. Diego starts chopping him and making the tag to Fernando. They tag again leading to a leaping forearm against the arm of Stardust. Nice leg trip leads to a 1 count. Fernando keeps him grounded with an arm lock. The crowd comes alive a little for Stardust. Fernando keeps chopping Stardust and sends him down with a punch. Goldust is tagged in and gets arm dragged. Another tag leads to a dropkick and armlock takedown. Goldust is thrown into a corner and quickly retreats. Goldust stays outside for a bit to recover before coming back in. A kick attempt is caught and blocked leading to an Irish whip. Diego keeps him grounded with an arm ringer. They exchange whips leading to an elbow and Dragon Rana. Diego hits a headbutt as Fernando is tagged in and they hit a double chop. This leads to a pescado. The referee starts the count as we go to commercial.

-commercial break

We return from the break with Stardust having Fernando in a full nelson. Fernando escapes and hits a dropkick. Another tag and Stardust is cornered but quickly counters. Stardust makes his own tag as Goldust comes in stomping away on Fernando. Goldust pokes fun at the Ole taunt. The crowd starts chanting Ole afterwards. Fernando reverses a whip hitting a corner forearm. He goes for another but Stardust moves Goldust out of the way. Stardust is tagged in and both men put the boots to Fernando. Stardust hits a dropped suplex. 1..2..kickout. Stardust gets another modified full nelson as Fernando fights out. Goldust is tagged back in as they double back rake Fernando. Goldust starts pounding away at Fernando who counters but runs right into a snap scoop powerslam. Stardust is tagged back in and starts stomping Fernando. Stardust grounds him in a modified armlock and the crowd gets behind Los Matardores. Stardust tags Goldust back in who gets sleeper before turning it into the same modified armlock that Stardust used. The crowd chants Ole to get the crowd into it. Fernando hits a jawbreaker and lowers the rope to send Goldust tumbling out. Stardust throws Goldust back in and hits a tag. He goes for the belly-to-back suplex but Fernando backflips out. Diego comes in hot with some dropkicks, flying forearms, and a hard clothesline. Diego rolls up Stardust. 1..2..kickout. Stardust is stopped by the Diego Ole taunt and Diego follows up with a draped rope guillotine. Diego hits a blockbuster, but Goldust distracts leading to a Stardust strike. Stardust now distracts the referee allowing Goldust to attack. Stardust hits dark matter. 1..2..3.

OFFICIAL RESULT: Goldust and Stardust @ 13:00 via pinfall
MATCH THOUGHTS: This was a great way to end the show. My only complaint would be that Los Matardores did not open up enough during the initial offense. The match started slow, but really picked up towards the end.

The Dust Brothers attack Los Matardores after the match.


FINAL THOUGHTS: Another good episode of Main Event. The opening promo was okay, but could have been shorter. Damien Mizdow and Dolph had the kind of match you'd expect. Natalya and Rosa had a better than expected match with Summer and Layla. The main event was the best part of the show. Good episode tonight and thanks for any who read the recap.

comments powered by